As some of you may know, a number of weeks ago my dads BH5A Auto (EJ206) packed up. Total engine annihilation. And my recent trip to Auckland was to fix said engine. Some of you may also know, not all BH's are equal. The BH5D's are completely different animals, they have a totally different intake manifold, with different sensors/throttle body, and top feed injectors, with a whole new wiring loom totally incompatible with the earlier BH's. These engines also tend to be more reliable than their older BH5A and B counterparts... (Simply newer? I base this remark on anecdotal evidence alone)
The engines as a whole are not compatible in the least, one does not simply pull out a Rev A motor, and then drop in a Rev D motor. BUT, the long blocks are compatible... Once you strip off the intake manifold, they are similar enough to work with all the BH5A/B/C gear. So if you happen to find a nice Rev D motor, for your blown A/B/C, then here's what's different...
First off, compression ratios, refer to this thread for details:
http://www.dirtyolbc...ression-ratios/
Then there's the long block.
The first thing that's different is the coolant crossover pipe on top of the block. This will need to be swapped over. Including the top tank line bolted to it, as the coolant top tanks are different.
Then the entire intake, complete manifold; turbo intake, fuel rails/lines/injectors, throttle body, vac lines, and coolant top tank need to be swapped. Thankfully this whole jumble of parts can be kept together, and swapped over in about 30 minutes.
Then there's the timing pulleys. This is probably the most annoying part. You need to swap the main crank sprocket, and the timing cam pulley, as the timing marks on the back of these are different to the earlier models. The other 3 plastic pulleys can remain, it's only the timing pulley that needs to be swapped.
I think that's it... the turbo's apparently are quite different, but my Rev-D motor didn't come with any, so I just used the old turbos.
So there you have it, pretty simple.
Only problem I have noticed since the conversion, is that it's a bit thirsty. I don't know if it was always this thirsty... It is an auto TT that loves to play with primary boost... But it could also be to do with the ECU tune no longer matching the heads and cams. I have no idea what differences may be lying in that department.
Pics coming soom.
Pics about 2 years late... And of no relevance... (forgot to take comparison pics)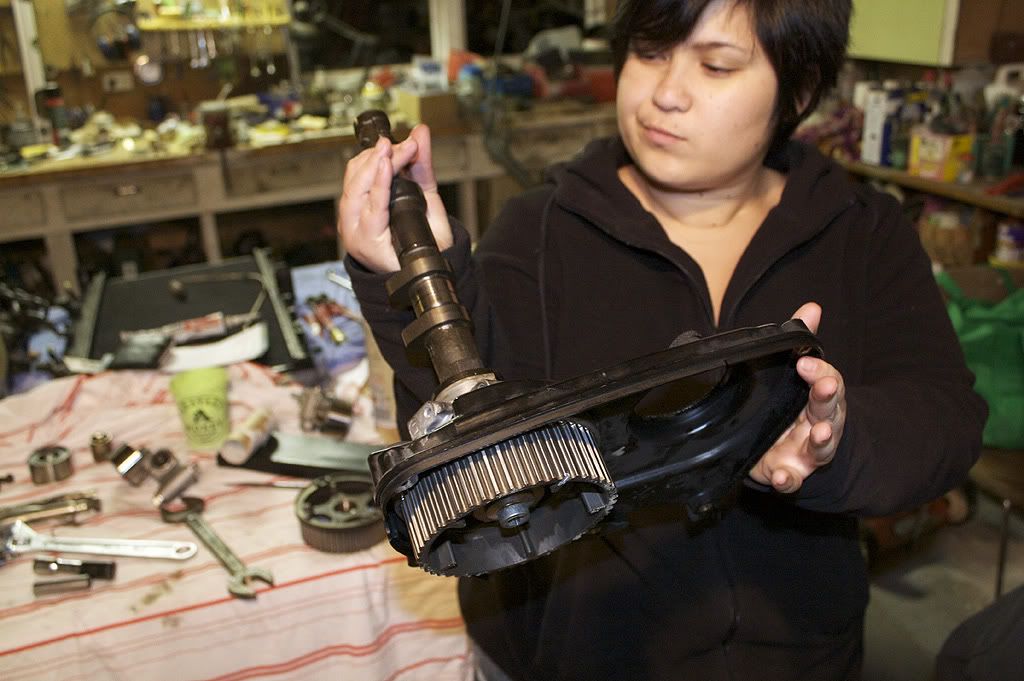 Rev D manifold. Note it's like a V5/6 manifold, only it has top feed injectors, and all the intake runners are the same curvey shape, rather than the flattened ones under where the coil pack usually sits.