Hokay, So I've been getting asked to write this one up for a while. "Halp, halp. my stupid coils are fucking out AGAIN on my BC, I hate them and want a simpler solution" Easy, there are two ways you can go about this. Coil pack conversion, or later model ignitor-on-coil-on-plug conversion.
The way I will cover in this thread is the 'Coil pack' mod, that is, the twin coil pack you see on V3's and 4's, and most N/A's from about 93-98. In fact, the PEREFECT donor car for this mod is the 95-96 250-Turd, the BG9A in other words. These cars share the same coil pack as many many other sibies, so it's damn easy to find a replacement, and it happens to be the same coil pack as on V3/4 WRX's and STi's, so we know it's good for turbo duty. The reason it's perfect is the lead length, they allow it to be mounted in a convenient place on the 20G manifold, nice and tidy, and with minimal fuss. The spark plug end of the leads also is from a 20G generation. Yes it's the later generation, so they are a factory fit for the wrx 20G's, but they can be modified very easily to be a perfect fit in the legacy 20G's also. bingo.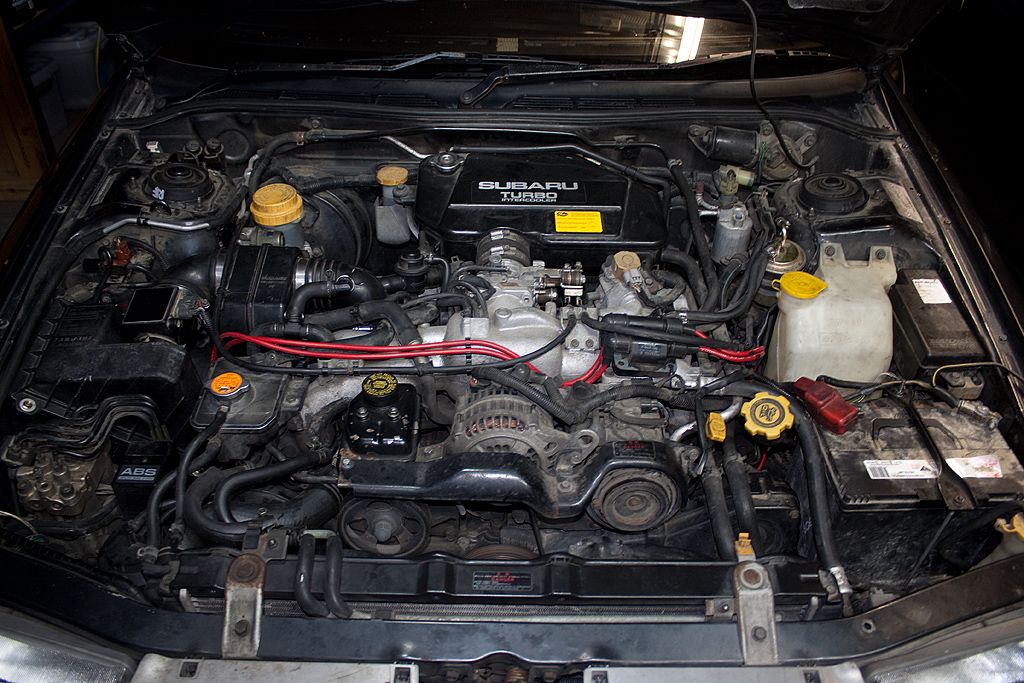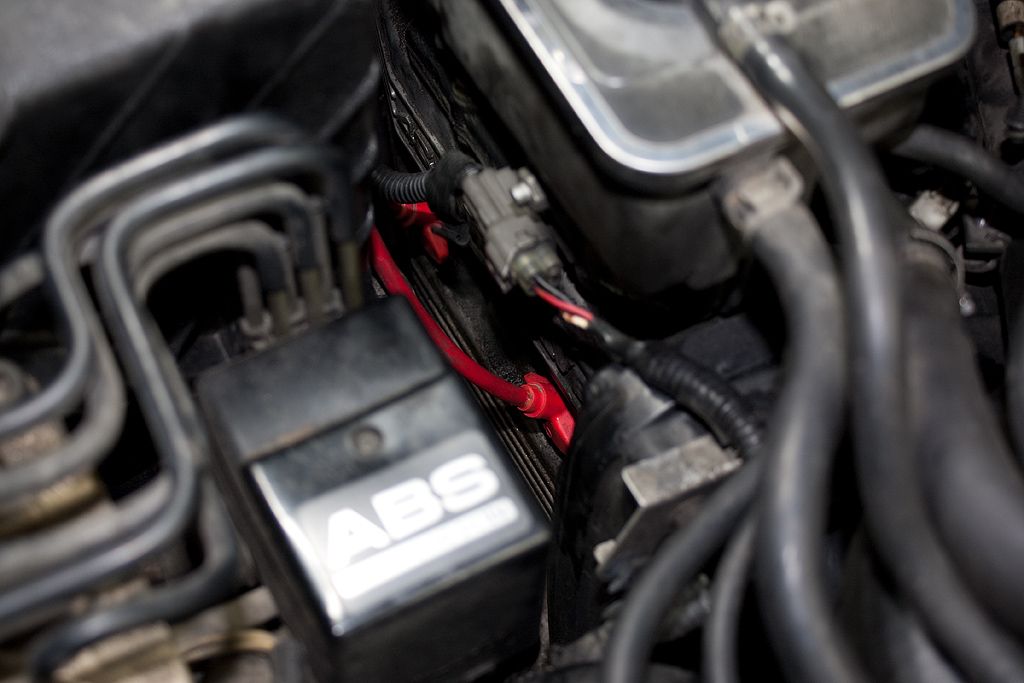 Once you have attained a coil pack and leads, and it doesn't have to be 250T leads, you can get leads of your ideal length off the shelf at any repco if you want, you can commence. The way I have done it, you do not need an ignitor at all, I use the factory ignitor, and just send it's signal to the coil pack, instead of the individual coils. Now, the 20G's, both legacy and 20G run 4 signal wires from the ECU to the ignitor, and the ignitor sends 4 signals out to the coils. This mod has only 2 coils, so you need to join 2 signal wires into one, for each coil. This isn't ideal, as the ignitors output will get fed back into the ignitor itself. Over time this hasn't proven a problem.... yet.... but who knows if it will eventually kill the factory ignitor, or not. I haven't thought that far ahead, and if you were worried, i'm sure a diode could solve that issue.
Now, the nitty gritty, and the part I don't have pics for. The two signal wires per each coil that get wired into the coil pack. it's simple, the forward coil deals with cyls 1 and 2 (the forward two cylinders), and the rear coil, deals with cyls 3 and 4 (the rear cyls). Which coil this is depends on which way you orientate your coil pack, so it's going to be different for each person. If you get it wrong, the car wont run, if you get it right, it will, so it's an easy process of elimination. Where the engine loom connects to the body loom, by the battery, there's a plug with 4 signal wires, and 4 coil power wires and a bunch of other sensor wires. Pick one power wire, tap into it, and send it to the middle pin on the coil pack. That's that done. now find the signal wires fro cyl 1, and cyl 2. you can do this with a multi meter, once you have the old coils out, and the coil plugs at easy access. Just check continuity till you find the right ones. Now join these two wires together, and run another wire from both of them up to the forward coil. Do the same with the rear two signal wires, and run them up to the rear coil on the coil pack. Bam. that fucking easy. I will be getting pictures of this, and wire colours for you in due time, to make it even easier.
A relevant pic from beasts twin turbo loom converted to coil pack: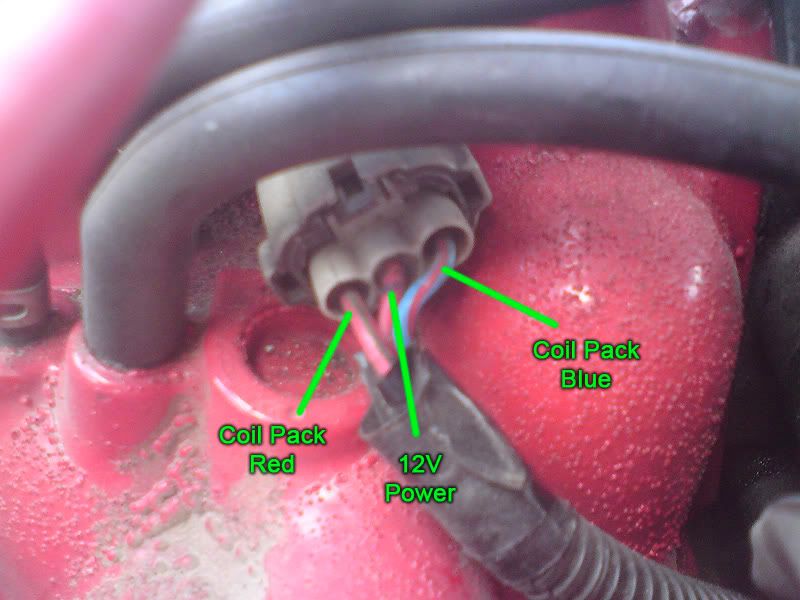 Once the coil pack is wired up, secure it in place, it does not need to ground, so my test example in mitches car is actually only ziptied in place, but you can make brackets etc. Also, since you have the coils out, CHANGE YOUR DAMN PLUGS. this is usally the ACTUAL culprit in any miss behaving spark issue, since most people forget they are a sevicable part, not a life long part! standard nickel/copper plugs ($5-8) last 10,000K on wasted spark, iridiums 30-50,000k's ($15-25), and platinums 80-100,000k ($20-30).
Foot note, I wired up beasts differently. Beast did not have a factory ignitor, since he started life with ignitor-on-coil-on-plug, so I had to add one in. I did the same join trick, but at the ECU, but i joined cyl 2 into cyl 1's wire, then used cyl 2's old wire, and joined both 3 and 4 into it, so that at the engine loom end, I had only signal 1, and signal 2 wires, just like, and even the same colour, as on a factory coil packed impreza. only extra step was instead of sending those wires to the coil pack, i sent them to the ignitor, then from the ignitor to the coil pack. the middle pin on the ignitor is just a ground. If you want to use an ignitor to match the coil pack, rather than keeping the factory one matched to the ECU, this is how you would do it.