This tutorial is to show you how to prepare your vehicle for a respray. This is just the bodywork involved in "preparing your canvas" for lucious shiney to be applied.
DISCLAIMER:
This tutorial is written by myself using knowledge I have gained by doin this to my own vehicle. I have absolutely no formal training. This knowledge was gained through asking questions, Google research, and just giving it a go.
Screwing it up is a perfectly acceptable result. You can learn from it and know not to do it that way again.
Step 1: Decision time
Many decisions must be made before you venture into it. Once you have started along this road, many professionals you may turn to if you give up will charge you extra to "undo" the work you have begun.
Some decisions could be:
- Will it be a bare metal respray? (Hardly necessary on a vehicle under 40 years old.)
- Will I be using a primer filler? (Thoroughly recommended for a little extra price, it's much more forgiving for amateurs.)
- Any areas you won't be painting? (Trust me, you do not want to sand an area by accident you didn't want painted.)
Step 2: Inspection
Take your time with this step. You need to find any imperfection on the body that will need repairing BEFORE the paint flys. Nothing is more aggrevating than finding a dent after you have applied the product.
Grab a flashlight and get on your knees at the corner of the car. Moving the beam very slowly down the side of the vehicle will show the little blighters that need filling.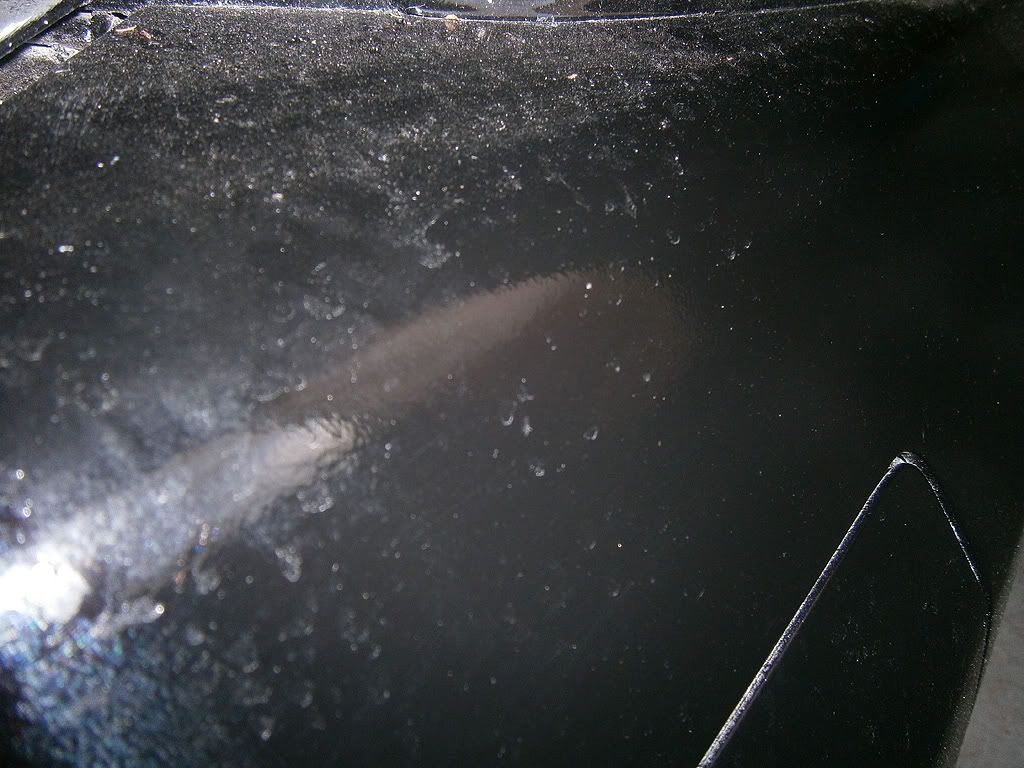 Repeat for each panel from various angles and circle them with a marker of some sort. Then take a photo of them all as you will be sanding the circle off when you go about repairing.
If you have a fetish like myself, you can also turn off all light sources and run your hand down the side. Without visibility, the imperfections are very obvious to the touch.
Step 3: Paint rape!!
This bit actually hurts me a tad just to think about.
It's sanding time *shudder*
Grab yourself some harsh sandpaper. 60-120 grit as you will want that paint absolutely annihilated for the bog to bond with.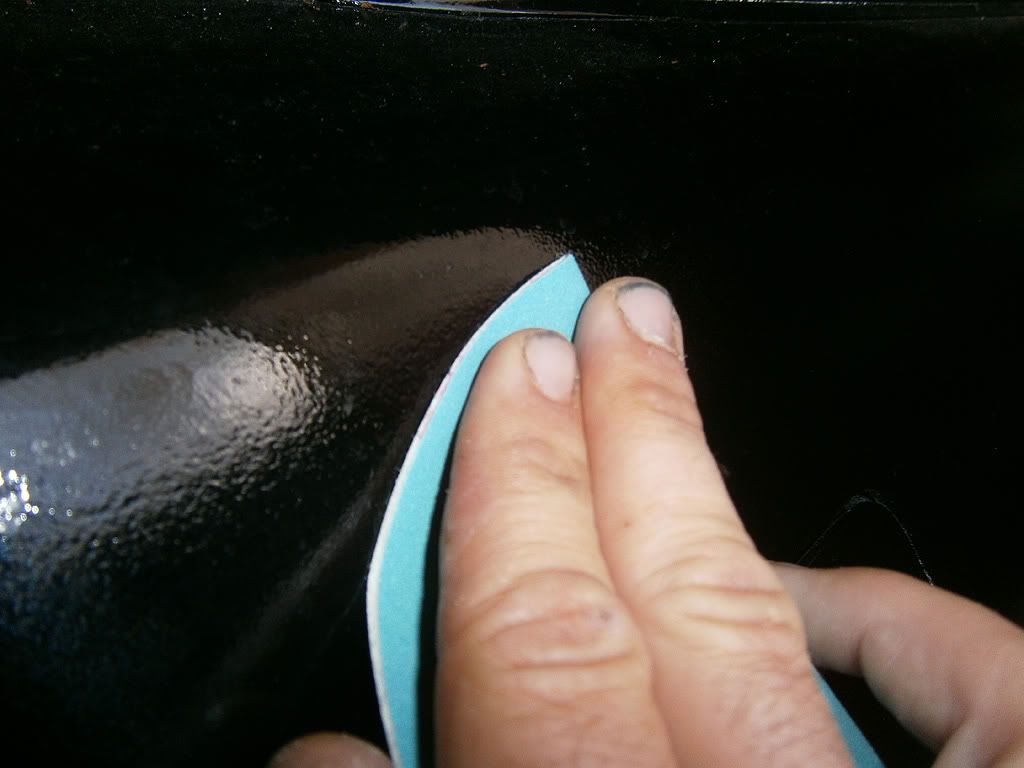 Be sure to sand a good sized area around the dent as well and you do not have to be pedantic about sanding direction for this. That comes later.
Give it a bloody good wipedown with some Wax and Grease Remover and consider this step complete.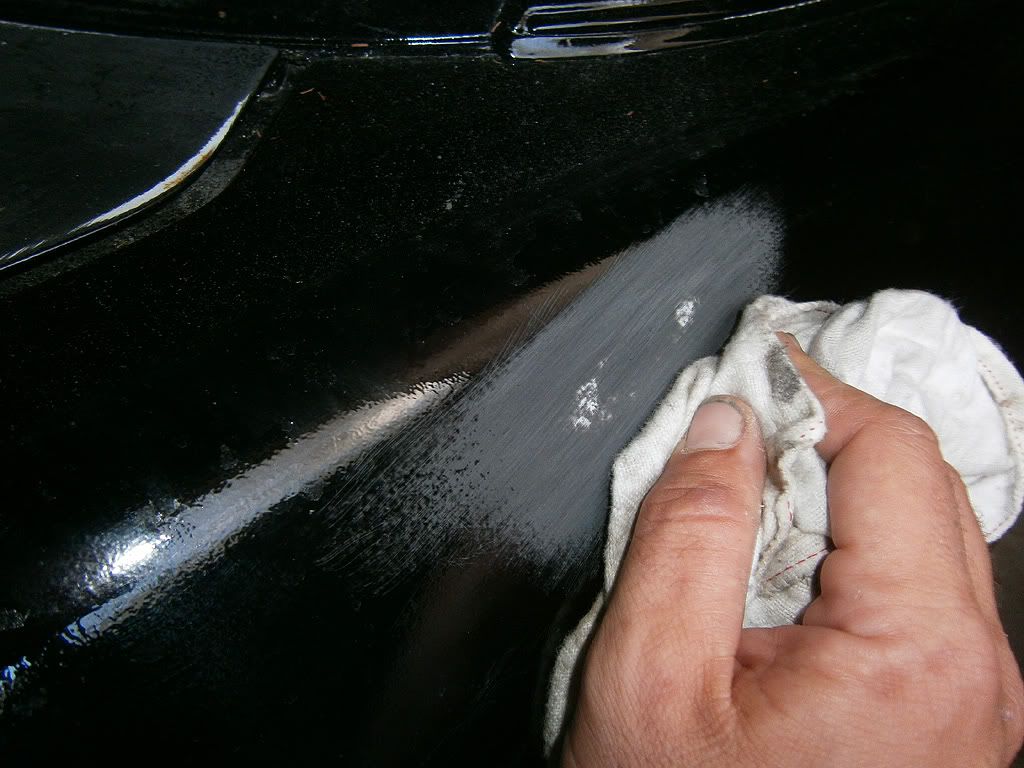 Step 4: Filling the dent
Mix your bog as per the manufacturer's directions. If you think the weather may affect setting times, adjust your time rather than the mix.
Video rental cards are great for mixing it due to flexibility. You must fold the 2 compounds together, not stir them. Stirring creates air bubbles in the bog that appear as voids once dry.
Smear the mix into the hole. Start a couple of inches ooutside the dent and work it in with quite a bit of force to ensure it gets into all the scratches from sanding.
Once you have filled the dent, use your "scraper" to work it well in. This means considerable pressure when smearing left to right, then right to left. Same again up and down and vice versa.
Step 5: Finishing the repair
Allow the bog to dry. I prefer overnight as I am usually drunk as an Irishman by now.
Then grab your block of wood (if dent on flat panel)and your savage 120 grit. Rub that patch like a teen who just found Brazzers.com. When it is approaching flat, switch to a smoother grit, ie 240. Then a 320, 500, etc.
OR You could just make sure it's flat and shaped and choose to use a primer filler. This means it doesn't have to be perfect as the thicker primer gives some "forgiveness".
If the patch is on a curved panel, a thick piece of rubber gasket available from a machinery engineering shop is ace.
Step 6: Rest of the vehicle
You are now ready to sand the rest of the vehicle.
To get through the tough clearcoat, start with 80 grit on an electric or DA sander. You can then follow up with 320 grit straight away.
If using primer filler, wash that baby down with dish washing liquid and a high pressure hose and you are now ready to fire up the compressor for painting.
If you are using a standard primer, you need to follow up the 320 with 500, 800, then 1500 before paint can be applied. (It's about now that you wish you had gone for the primer filler.
)
Thus concludes the tutorial for body prep. Get a few brews, a few mates, and some filthy epic mixes on the speakers; and enjoy it. Sanding does feel like an uber-drag but once you fire up that gun, a real sense of achievement comes over you and it's all worth it.
I hope this helps you out. Any questions, feel free to ask and I will try to answer them. No promises though, as you can see from my first attempt, I'm not a pro.
Shale, boostin, DCVR and 4 others like this